The Travel Diaries
Have you kept a travel journal to capture all of your wanderlust? I'm so pleased I started this practice at the age of 22 when I went on my first solo trip across South America and Western Europe. Documenting my travel is a true pleasure and is perhaps what I am obsessed with London-based travel and entertainment journalist, Holly Rubenstein's podcast, The Travel Diaries. So much so, that I have plans to launch a podcast to complement this blog. How amazing it will be to reconnect with people I have travelled with over the last 15 years and revisit some of the incredible adventures we have had… watch this space!
For now, I'm writing this blog following Holly's podcast format. She is so dreamy to listen to and beautifully extracts travel stories from different high profile travellers such as Sir Michael Palin, Poppy Delevingne and Hugh Bonneville about the seven travel chapters of their life, uncovering the seminal travel experiences that have shaped who they are today.
From their earliest childhood travel memory, to the place where they learnt the most about themselves, and what's at the top of their bucket list, it's wanderlust guaranteed – and I cannot consume them quickly enough.
So, here are the 7 chapters of my Travel Diaries:
CHAPTER 1
Earliest childhood travel memory
Summer camping, snorkeling, BBQs and the beautiful beaches of The Coromandel, NZ
Considering New Zealand is at the top of most peoples bucket list, I'm so lucky to be able to call this place home.
Every summer we would spend 6 weeks at Orewa Beach Campground, where various members of my family had permanent caravan's. It was only a 40min drive from home but has a beautiful sandy beach, rock pools to explore and lots of quaint cafes to enjoy. I love this place as it's full of salt air, sunburned skin, mischief and adventure with my cousins. But, because we spent so much time in Orewa, all the years blur together so its hard for me to describe a specific memory to share in this blog. So I'm going to choose The Coromandel as my earliest travel memory, it is destination loved by both Kiwi's and International tourists and felt more like a 'Travel Experience' and an exciting destination to me as a child (and as an adult).
For somewhere so conveniently close to three major North Island cities, The Coromandel can still feel very much off the beaten track. It may have something to do with its numerous and diverse beaches – from quiet coves thick with shells and framed by sculpted cliffs, to sweeps of white sand and steep dunes with surf rolling in from the Pacific.
Renowned for its natural beauty, green valleys, misty rainforests and pristine golden beaches The Coromandel is made up of Islands and over 25+ beaches. I remember visiting both Whangamatā and Pauanui 3-4 times thought my childhood.
Pauanui Beach
Pauanui Beach is where my Uncle has a 1-Bed Holiday home, which backs onto a private airstrip and has the beach at one end of the street and the golf club at the other.
It's slightly calmer (smaller) than Whangamata, the type of place you'll find the beach busy with walkers, dogs and kids, surfers, paddle boarders and sun bathers. There are also protected dotterel birds that nest along the sand dune. It was such a nice place to holiday, swimming at the beach by day and a BBQ sizzling out on the front deck in the evenings. My Uncle had a vinal record player and I think to this day still has our old TV from the 80's which has no remote control and only 4 buttons / channels to choose from. It was just such a nice place for a simple, family holiday.
Whangamatā Beach
We visited Whangamatā a few different years with Mum and family friends, we would rent a little holiday house and all of us kids would sleeps on mattresses or couch cushions on the living room floor, leaving the bedrooms for the adults.
It's easily one of New Zealand's most famous surf breaks, particularly the Whangamatā Bar. The left hand break attracts surfers from around the world. At either end of Whangamatā Beach are estuaries that are great for exploring by kayak or SUP (stand up paddle boards).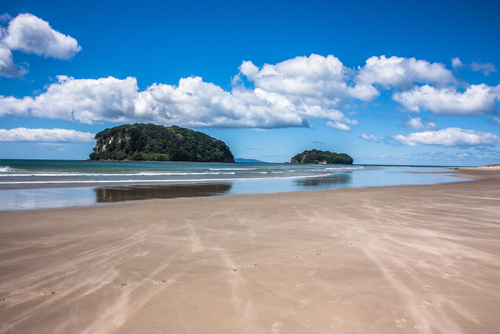 One year we visited with Dad and a group of his friends. There were three families in total and we drove the 3-hr windy roads the make most people car sick from Auckland to Whangamatā. Rather than a beach house (or Bach as we would call it in NZ) we stayed slightly further inland on the top of a hill on a farm. There were three caravan's perched on top of one very steep hill, and we had a view across to another steep hill and some bush land. We could hear the ocean, but couldn't see it and in the valley between the two hills, we're countless sheep – a classic Kiwi view. Our caravan was old, creaky and full of spider's and their webs. Easy to say that it has probably been years since it has been used, but I have so many memories from this trip.
Each day we would drive to a different beach and snorkel. I became known as the Kina queen at aged 10. Kina is a sea urchin species found in New Zealand out of 200 types of sea urchin all over the world. I would dive down, try and measure the Kina by hand to see if it was legal to take and use a knife to pry them off the rocks before desperately trying to get back to the surface for a gulf of air. After a few days my hands were raw with cuts and scrapes from the Kina but it felt like such a wild adventure. One day while we were out swimming, my Dad grabbed an octopus that was in the rocks beneath and yelled 'catch' as he thew it as me. Although a funny story to share now, it was terrifying to have all those legs wrap around me and tentacles suck on to my skin. But every evening, back at the farm camp, we would have seafood on the BBQ and a cracking fire going. There were no showers but we had solar shower bags so would fill them up each morning and leave them in the sun to heat up while we were out all day and rinse the sand, salt and dust from the farm at dusk.
Wow, living the dream – take me back to my childhood!
CHAPTER 2
First place I fell in love with: Cesky Krumlov
A small town in Southern Bohemia, has long been recognised as travellers to Europe as one of the most charming fairytale towns in all of Europe.
A UNESCO site recognized exemplary examples of medieval, renaissance, and baroque architecture, it is just stunning.
On my second day in Cesky Krumlov I hired a raft to take 15km down river to the next town; it was so much fun. It took nearly 4 hours due to the windy canals and small rapids that I sometimes had to climb down. It was a fairly difficult row as there was almost no movement in the water (I'm glad I didn't plan to row back and have a car booked to drive me back to the town). The river was beautiful, the landscape so green. I passed many camp sites and beer gardens along the way which I imagine would have been a fun way to travel down river.
On my final day I visited the castle; which is huge. There are bears in the moat which was a bizarre sight but definitely draws in the tourists. I climbed to the top of the castle tower which provided stunning views of the town and spent most of the afternoon walking through the beautiful gardens.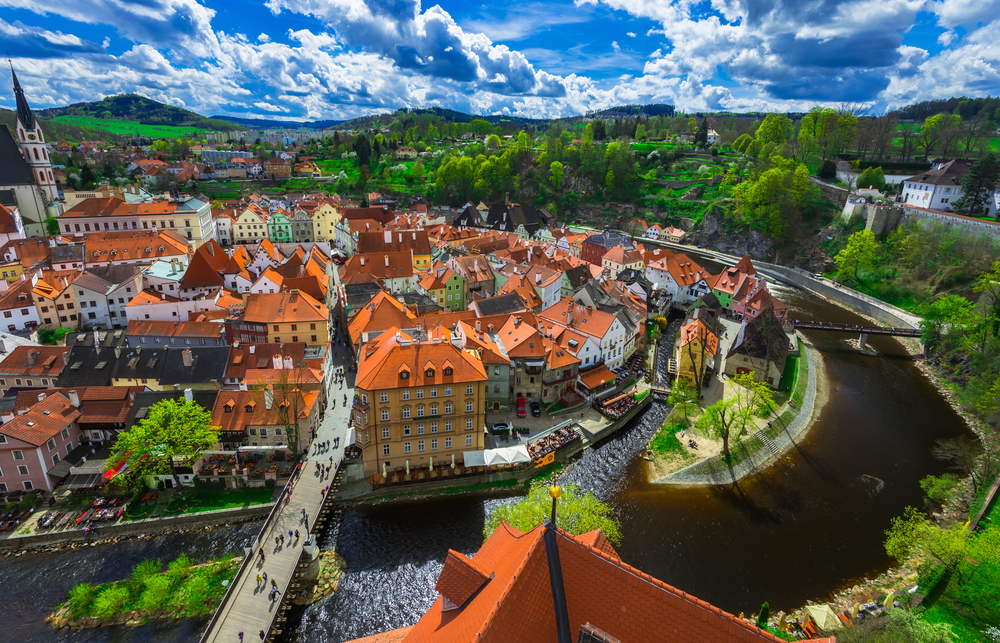 Construction of the town and castle began in the late 13th century at a ford in the Vltava River, which was important in trade routes in Bohemia. Most of the architecture of the old town and castle dates from the 14th through 17th centuries. The town's structures are mostly in Gothic, Renaissance, and Baroque styles.
It was unbearably hot so I also hired a rubber tube to float down the river. The river basically circles the town, so I hopped in one site, floated around and hopped out on the other side before making a quick dash across the town to jump back in the river on the other side – amazing!
This town has quaint old world charm that I find very romantic and have found myself a little sad to be travelling alone. Not because I don't enjoy being single but because after travelling for 3 months and experiencing such incredible places; I can't express acurately how these beautiful places make you feel. My photos don't do the place justice and I feel sad that nobody will connect or share my enthusiasm.
CHAPTER 3
Place I learned the most about myself
Travelling solo in South America: Argentina, Chile, Bolivia and Peru
I was 22 years old and it was my first trip outside of Australasia. I can confess now that I was fairly naive. Arriving into Buenos Airies I was filled with wonder but also with fear. I arrived safely at my hostel but very quickly realised I was out of my depth. I was afraid to speak to anyone. I actually didn't eat for two days because I was to shy to go into any shops and attempt the Spanish language.
I realised I wasn't going to survive travelling solo for 6 months at this rate so booked myself into a Spanish language School and lived with a family in an immersive language experience.
This was a trip that pushed my comfort zone and tested my resiliance.
CHAPTER 4
Favourite Destination
From building a mud house for a poverty-stricken family to the luxurious Giraffe Manor + Safari
Gosh, where to begin with beautiful Kenya. I love Kenya, the people, the landscape, the wildlife, I experienced so much joy travelling across the country and had so many life-changing moments.
I travelled from Nairobi, north-west to Kisumu, Nakuru and Aberdare Ranges and to the south to the Masai Mara and Amboseli.
CHAPTER 5
Hidden Gem
Following in the footsteps of the Samurai and exploring the wonder of untouched wild beaches in New Zealand
I have two, a beautiful Ryoken in Japan & since I am a Kiwi, I need to take you to New Chum's Beach in NZ.
A Ryoken Stay in the Takao area of Kyoto City
Momiji-ya is a Japanese-style hotel called a Ryoken which is more than 100 years old, located in the mountains (35 min drive from Kyoto Station). The accommodation is only accessible by crossing a suspension bridge. We arrived in the early evening just as the sun was going down and he glittering lights over the river made the place feel so majestic.
We were shown to our room and provided jasmine tea along with some information about the Ryokan.
The whole experience was incredible, so relaxing and so beautiful. I'm trying to consider what made this so special – suppose with Kyoto being such a beautiful ancient city we had already falling in love with the place combined with the location of this Ryoken in the mountains, the sound of the river, the twinkling lights and the calm… yes, that is it, it was the calm and serenity.
We had an hour before dinner so had time to soak in our private 'open-air' bath and dress in our yukata's, which is the casual version of a kimono worn by Japanese people while lounging at home.
Then we were ready to experience our Kaiseki meal. It is the culinary highlight at a ryokan, embodied in beautifully presented dishes that delight both the palate and the eyes.
Each of the 15 dishes that make up the multi-course Japanese dinner is prepared in such a way that highlights the unique textures, colours, and flavours of the featured seasonal ingredients and local specialties.
Our's consisted of bite-sized appetisers, fresh sashimi (raw fish), soup, grilled fish, meat, a hot pot dish, rice with miso soup, and a small dessert. It felt never-ending, but by 8pm we were finished and by 8.30pm lights were and we drifted into the deepest slumber I've ever experienced.
Needless to say I was very sad to leave.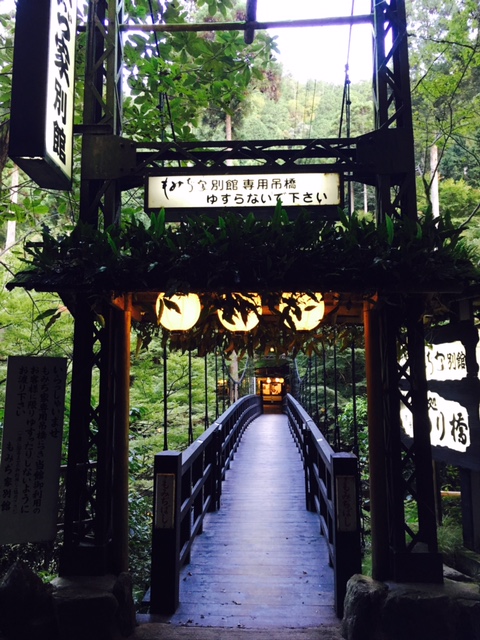 New Chum's Beach, New Zealand
My second hidden gem is back in New Zealand at New Chum's beach which is possibly the best beach in the world. Think of that movie (also a book)….. The Beach. Yes, that is as close of a visual I can give you without you seeing it for yourself.
To locate New Chum's, you need to park at Whangapoua where there is a public toilet (use it). Part of what makes this such a special place is that it is tricky to access. We walked along Whangapoua beach, crossing a little stream, then walking over rocks around a cliff (its important to check the tides), the tide was coming in so we did walk through knee high water up to the bush path.
We then walked for 30min through the bush which as lots of beautiful New Zealand native trees and after passing the lookout path we turned off a sandy path through Nikau palms and there you see it, this gorgeous hidden beach.
Warm sun and gentle waves crashing upon the soft white sand.
CHAPTER 6
Worst Travel Experience – Robbed, sick with a parasite,urinated on by a monkey and hospitalised…
My Bolivian Nightmare (yet, it remains one of my top 5 destinations)
I was 8 weeks into my solo OE (Overseas Experience, as we call it in NZ – Also known as a GAP year), and Sucre in Bolivia turned out to be an unlucky destination for me. arrived on a bus from Potosi and in the time it took me to walk from the centre up a hill to my hostel accommodation I was pickpocketed. Have no idea how and fortunately it was only a few peso that I kept on me for tips. I spent a few days in Sucre which I must say I really did enjoy. I met some English guys at a local restaurant and we were staying at the same hostel so did a few of the tourist hotspots like Parque Cretacico Sucre which is home to one of the world's largest collections of fossilised dinosaur footprints. We ate one evening at a nicer hotel restaurant because we were just craving some salad (I know the sounds strange but after 8 weeks of eating at market stalls it was a genuine craving). Little did I know, it would impact the next 10 days of my trip.
I woke up throughout the night with what I initially thought was food poisioning. I was a flying to Rurrenabaque the next day via La Paz so packed up and went to the airport. The guys I had been travelling with had a flight on to Copacabana so we shared a taxi to the airport as there was a bus strike.
I was so ill. Running back and forth from the bathroom while waiting for my flight to depart. Thankfully, I had checked in my luggage and just had a carry on bag with me which I tied to my leg when sat in the lounge. However, while hunched over in pain from my stomach cramps I didn't notice that a thief had cut the tie of my bag and I was left with the remaining strap dangling from my leg.
I burst into tears.
And then, there was a call for my flight to board, the staff told me there was nothing to me done and to report it at a police station once I landed.
Upon arrival on La Paz I was old my connecting flight to Rurrenabaque had been cancelled and I had to wait for the flight the next day…. more crying. But it did allow me time to go to the police station and a night in a hotel to try and recover from the sickness.
I awoke the next day, still ill. But decided to board the tiny plane and flew to Rurrenabaque where I booked a 7 day pampas tour of the Amazon. As it turned out my illness was an intestinal infection (Giardia infection) marked by stomach cramps, bloating, nausea and bouts of watery diarrhea caused by a microscopic parasite. It's actually quite common especially in areas with poor sanitation and unsafe water. It was very unpleasant but I was in the middle of the Amazon and was determined to soak it all up.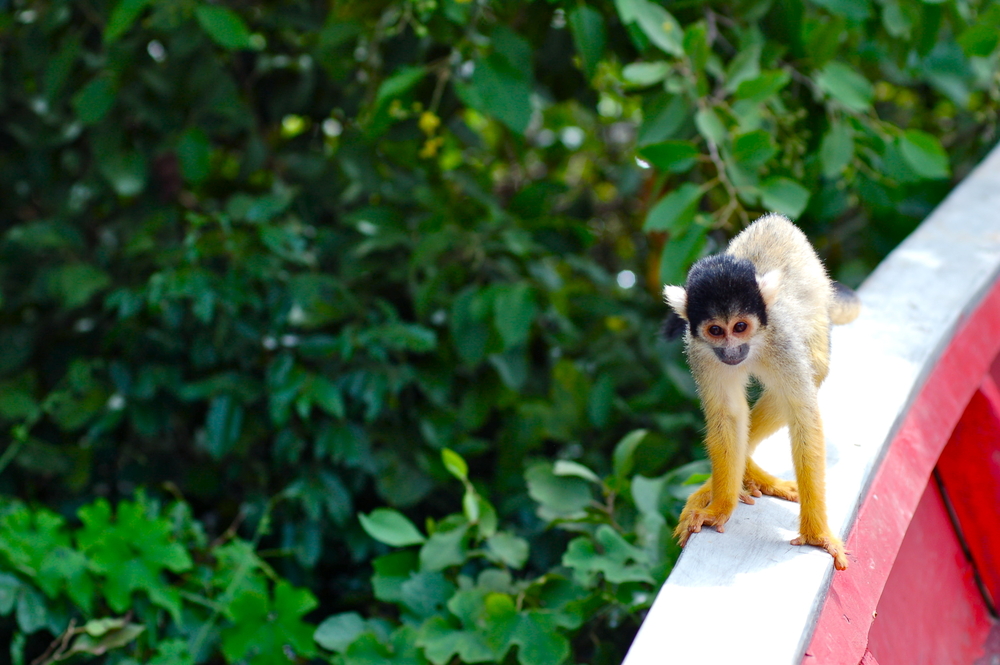 It's both hilarious and ridiculous thinking back now. The way I crouched in a foetal position in mud up to my knees while the rest of my tour slowly crept through the swamp looking for anaconda. I was dizzy with dehydration as I attempted to walk across the planks of wood high in the tree tops from our treehouse to the toilet huts perched in the tree opposite. (They are above ground for safety from the caiman, a type of alligator common in the Amazon rainforest). I had to skip the piranha fishing expedition one afternoon when I was just too fatigued to move. And to top it off, a group of cheeky squirrel monkeys saw us coming down the canal one afternoon and swung through the tree tops to a canopy hanging over the river and waited for use to pass under before urinating on us.
It sounds strange to say reading this back, but it was an incredible trip. I was desperate to stay for another week, with my pampas tour group who decided to stick together and do a Jungle tour learning about the rainforest environment, its medicinal plants but it was going to be much more active than the pampas tour and my illness was not getting any better. I decided to fly back to La Paz and find a doctor.
Exiting the airport in La Paz, I asked a taxi driver to take me to a hospital and I must have passed out because I only remember waking up in a hospital bed with an IV line. I was discharged the next day with some antibiotics.
CHAPTER 7 – Bucket List Item…. Where to next?
Sri Lanka, Iran and Uganda… please, don't make me choose just one!