The Inca Trail to Macchu Picchu
I have spent the last few days in Cusco acclimatising to the altitude in preparation for the highlight of my trip to South America… The Inca Trail.
Day 1
I woke at 5am to meet the group at 5.40am at the tour office. We travelled by mini-bus and stopped off for breakfast at a lookout over Urubamba, then carried on to a small village where we purchased poncho's, walking sticks and snacks from local traders. I started to feel a little nervous as many people in our group were speaking about some of the training they have been doing for the trek, some had their own anti-shock hiking poles and I was the only one who had not hired a porter to carry my backpack – I began to wonder if I was in over my head.
The trekking on the first day was great. It was certainly a challenge, even though we were walking very slowly, the altitude makes you feel out of breath and I was sweating the whole day.
Distance: 12km
Estimated time: 5-6 hours
Maximum altitude: 9,850 feet / 3,000m
I was really sunburned on my shoulders from a few days earlier and had begun to blister which made carrying my 11kg backpack uphill a challenge. But the porters were carrying our tents, cooking equipment, 4 days worth of food, fold-out tables and chairs and were sprinting up and down the mountains, so I tried not to feel sorry for myself. These guys were our heroes!
Day 2
Last nights 'happy hour' consisted of coco tea, milo, popcorn & biscuits. We had dinner at 7pm, which was amazing. The porters served us an entree, soup and a main course. I was blown away by the effort our chef, Alex, has gone to. Everything is presented so beautifully, which is completely unnecessary. We were in bed by 8.15pm which I was grateful for as we had a 5am start again today.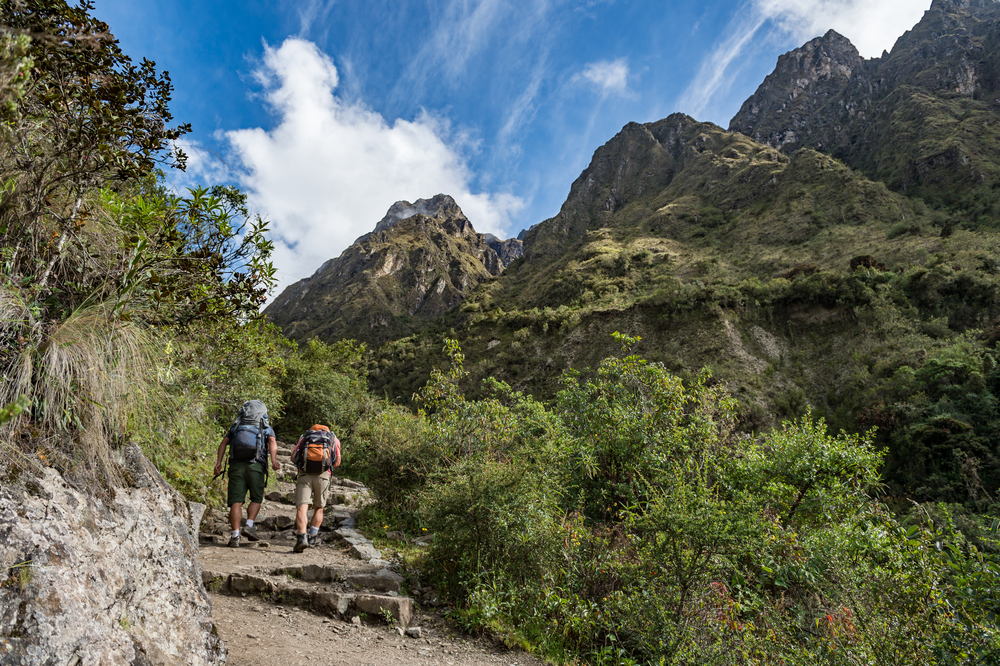 This second day of trekking is considered the most difficult part of the Inca Trail, so I hired a porter for the day at the bottom of Dead Woman's Pass.
Distance: 11km
Estimated time: 7 – 8hours
Maximum altitude: 13,828 feet / 4,215m
What makes Dead Woman's Pass so famous is its altitude. At 4,215m, it's the highest (and most dreaded) point of the Inca Trail, and nearly 1,800m higher than the altitude of Machu Picchu itself. It took us about 3 1/2 hours to reach the top and thankfully most of the track was shaded so we out of the sun.
It was difficult, imagine walking upstairs for over 3hours without stopping. I could really feel it in my calfs and glutes (and thought about how grateful I was for doing 2 years of the 'rear attitude' class at my gym to strengthen my legs). From there, a 2-hour descent down to our lunch stop. This part was actually just as difficult because it was just as steep so very hard on the knees.
After a delicious lunch, we hiked another 2 hours up over the second pass, by this stage I felt really tired.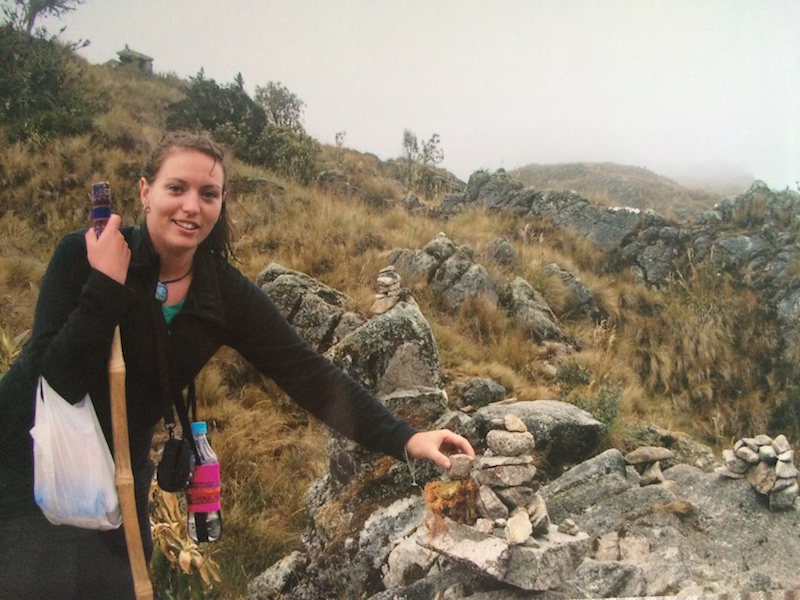 We collected a stone at the lake and carried it to the peak where we made a wish (something the Inca's would have done). A further 2 hours past a few incredible Inca ruins and we were at our campsite…finally!!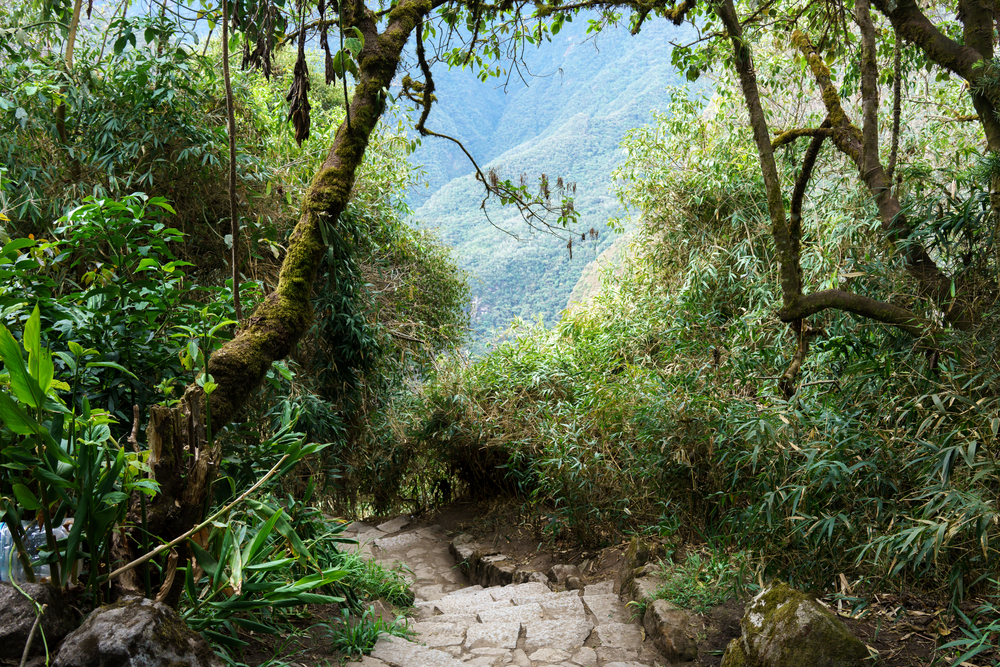 It's been a long hard day, but the scenery alone has been worth it. I will sleep extremely well tonight.
Day 3
Distance: 15km
Estimated time: 6 hours
Maximum altitude: 12,664 feet / 3,860m
Today has probably been the easiest as there was only one pass to trek over but the incline was nowhere near as steep as yesterday. It's the shortest day on the trail although we are covering more distance. My knees and quads are really suffering so I was relieved when we reached our lunch spot and we were able to have the first shower in 3 days. I took a long afternoon nap before dinner as the wake-up call for tomorrow is 3.30am to ensure we make it to the sungate before the sunrises over Machu Picchu.
Tonight we say goodbye to our porters and tip them. We heard they only get paid s/100 (Approx. £20 / $30) for the 4 days so that left us feeling guilty about the amount we should tip. It's annoying because we pay a considerable amount for the tour ($540) and barely any of it goes to the porters or the guides.
Day 4
I woke by a 3.30am call, packed our things and met for breakfast at 4am. By this time I was feeling a little bit ill (stomach cramps – the guide suspected a parasite so gave me some painkillers). I managed to eat something and leave at 4.30am for the last checkpoint and hike 1.5hrs to the sunset. One of the steepest staircases I have seen yet, but we made it to the top. I was slightly disappointed to see clouds and fog over Machu Picchu so were unable to get that 'postcard' photo I was hoping for. But after waiting about 15min for the fog to clear we walked down to Macchu Picchu city and watch the sunrise from there. As the sun came up, the cloud and fog burned away and we got a couple of good photos at the top before the clouds came over again.
I suddenly had a great sense of achievement doing the Inca Trail, when I saw Machu Picchu for the first time I felt like it was a completely mystical place. I think the physical and mental strength it required along the Inca Trail contributed to this feeling but it's also absolutely mind-blowing that this site was constructed in 1450 in such an isolated part of the world.
Unfortunately, most cities built by the Inca civilization were destroyed by the Spanish conquest. Machu Picchu was in a hidden location—invisible from below—and not found, making it one of the most well-preserved Inca cities and an archeological gem.
I can totally understand how the Spanish never found this sacred site – the weather changes so quickly and you really can't see a thing when the cloud comes over.
The Incas were some of the best masons in the world. The structures were so well built with a technique called ashlar (stones that are cut to fit together without mortar) that not even a knife blade can fit in between stones.
We walked down into the city an spent a couple of hours being died around by Hilbert, our guide, he told us a lot about each significant building and place before we let us have a few hours to wander around on our own.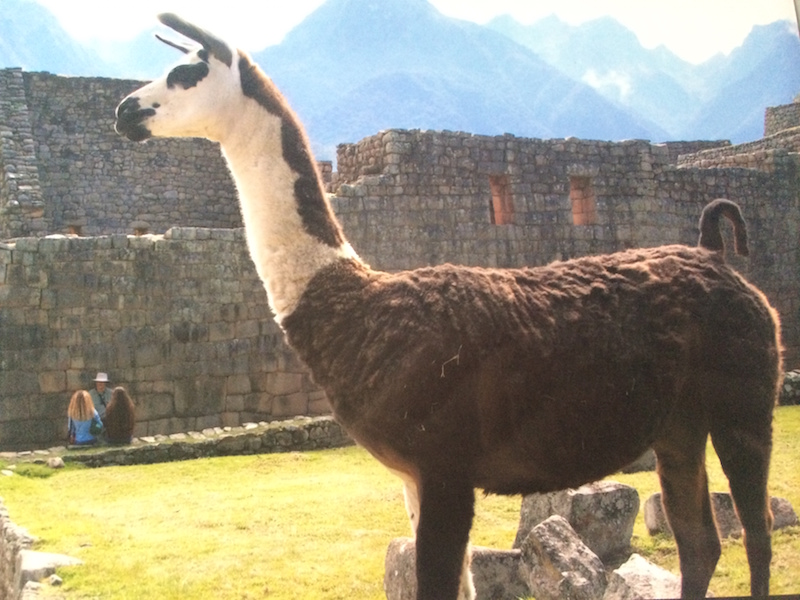 Machu Picchu is made up of more than 150 buildings ranging from baths and houses to temples and sanctuaries. The compound contains more than 100 separate flights of stairs. Most of the individual staircases were carved from one slab of stone.
Unfortunately, this was around the time the painkillers (and emporium pills) had worn off and I was feeling really awful. Another one of the guys on our tour had also become ill by this point so we both went down to the main entrance where there were some public restrooms, we both spent the next 2 hours in and out of the bathroom while we waiting for the rest of the group to join us.
Needless to say, Machu Picchu is amazing. Each year, thousands of hikers/trekkers undertake the four-day journey that ends at the celebrated Incan ruins of Machu Picchu. It's a trip that challenges the spirits of those who undertake it, yet also rewards them generously out of sheer accomplishment. I'm so glad I did this and can check this bucket list item off my list 🙂