Krakow
Krakow is our final stop on 2-month trip around Eastern Europe. My sister and I are getting a little restless with each other so it is probably a good time for us to be finishing up although I am disappointed that this is the only city in Poland we will get to see.
If you believe the legends, Kraków was founded on the defeat of a dragon, and it's true a mythical atmosphere permeates its attractive streets and squares.  Like much of Eastern Europe it's old town cobbled streets are its main appeal. It contains soaring churches, impressive museums and the vast Rynek Główny, Europe's largest market square. In the former Jewish quarter, Kazimierz, remnant synagogues reflect the tragedy of the 20th century, just as its lively squares and backstreets symbolise the renewal of the 21st. Here and throughout the Old Town are hundreds of restaurants, bars and clubs which we certainly took advantage off.



Much Polish vodka and Bigos (stew) later we attempt to do something 'touristy'.  A tour to Wieliczka Salt Mine was booked and what a treat it was.
Wieliczka is located 14km southeast of Krakow and is famous for its deep salt mine. It's an eerie world of pits and chambers, and everything within its depths has been carved by hand from salt blocks. The mine has a labyrinth of tunnels, about 300km distributed over nine levels, the deepest being 327m underground. A section of the mine, some 22 chambers connected by galleries, from 64m to 135m below ground.
The mine is renowned for the preservative qualities of its microclimate, as well as for its health-giving properties. An underground sanatorium has been established at a depth of 135m, where chronic allergic diseases are treated by overnight stays.
The salt-hewn formations include chapels with altarpieces and figures, while others are adorned with statues and monuments – and there are even underground lakes. The showpiece is the ornamented Chapel of St Kinga (Kaplica Św Kingi), which is actually a fair-sized church measuring 54m by 18m, and 12m high.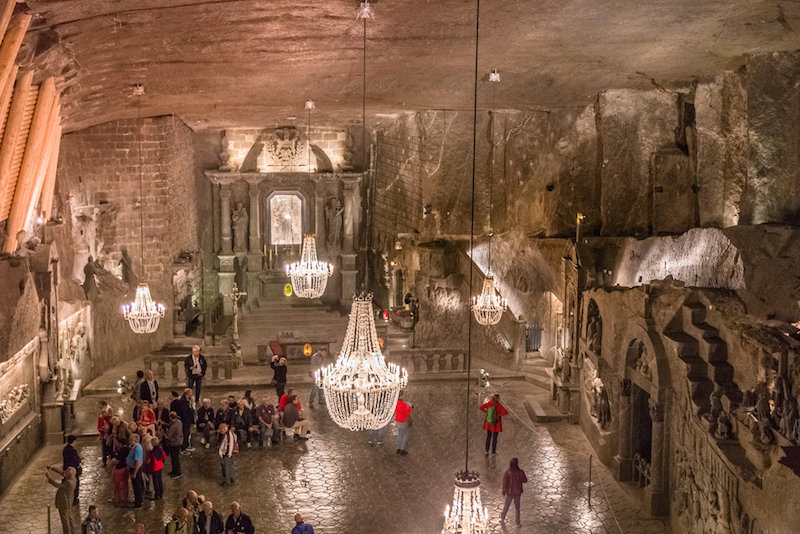 Every single element here, from chandeliers to altarpieces, is of salt. It took over 30 years (1895) for one man and then his brother to complete this underground temple, and about 20,000 tonnes of rock salt had to be removed. Other highlights are the salt lake in the Erazm Barącz Chamber, whose water contains 320g of salt per litre, and the 36m-high Stanisław Staszic Chamber.
Photo Credit:
Alexander Lukatskiy / Shutterstock.com