Viñales: Home of Cuban Cigars
Viñales is the perfect combination of natural beauty and traditional Cuban culture. It is best known for its tobacco farms, languid lifestyle and the distinctive limestone hills of Valle de Viñales.  A place in Western Cuba that, despite being popular with tourists, remains stubbornly raw and authentic.
If you're into cigars, nature, and culture… Viñales is not to be missed.
As we approached Viñales we made a stop at a local tobacco farm.  Cuba produces some of the world's best quality cigars, with over 100 different varieties. And it's at Viñales that a lot of the premium tobacco grows to produce one of Cuba's finest exports.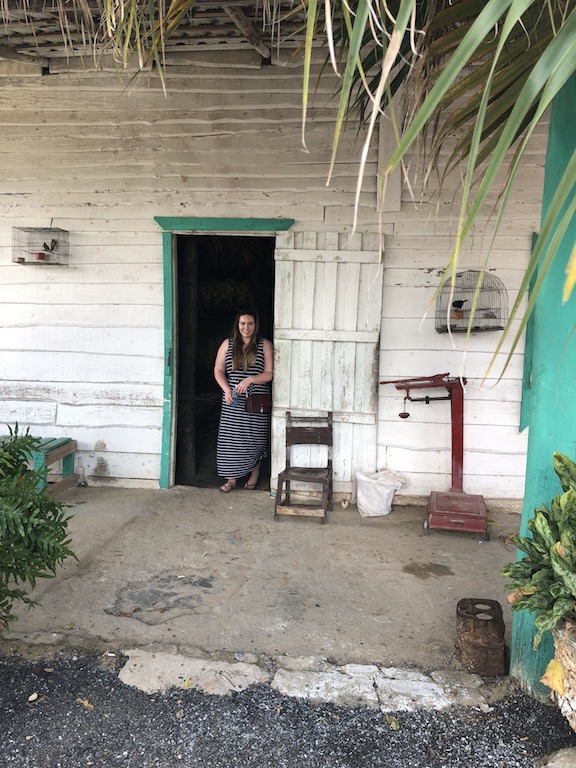 We were able to see how they grow and tend to the crops, before they store and dry them. 90% of the tobacco leaves are given to the government to produce the famous cigar brands we are all familiar with in the West and the remaining 10% of the crops are left for the local farmers to sell for their own profit.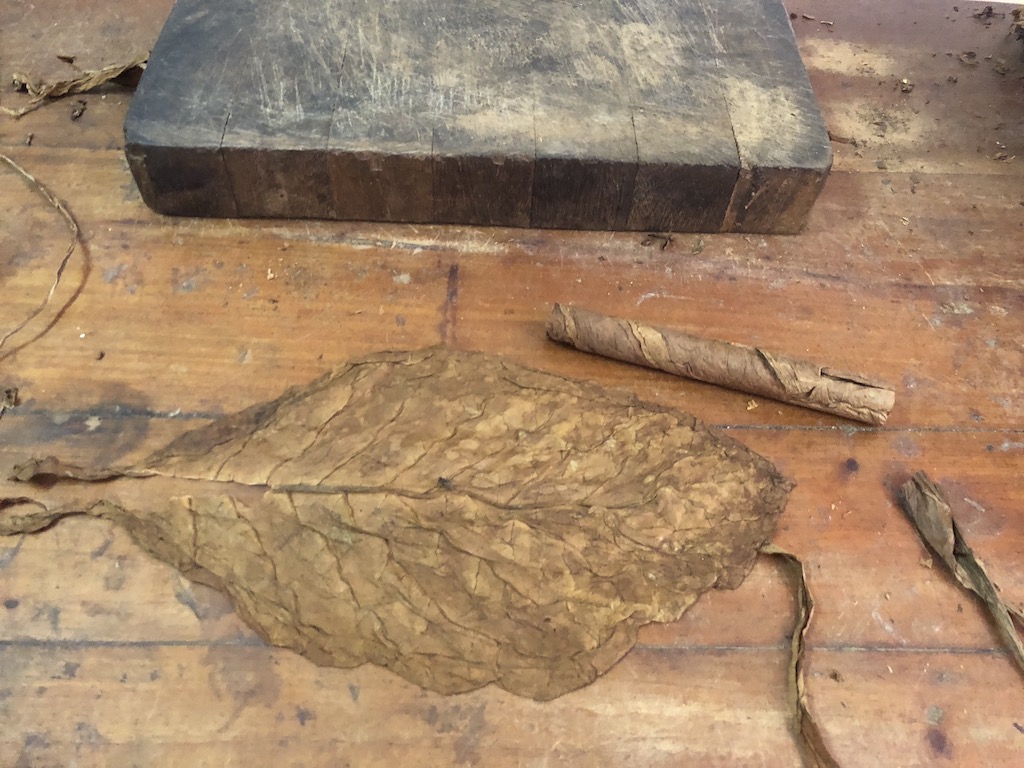 We were able to sample a cigar at the farm and purchased a few as gifts for friends and family back home.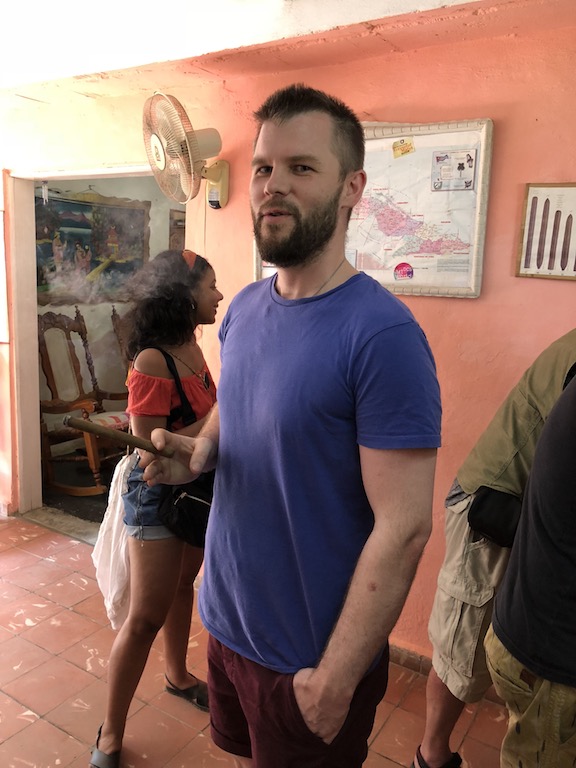 Before arriving in the town centre stopped at a lookout to observe the famous UNESCO World Heritage Site, Viñales valley.  The mogotes are large imposing hills made from limestone, smothered in vegetation which reminded me of a scene from Jurassic Park.  It was absolutely beautiful.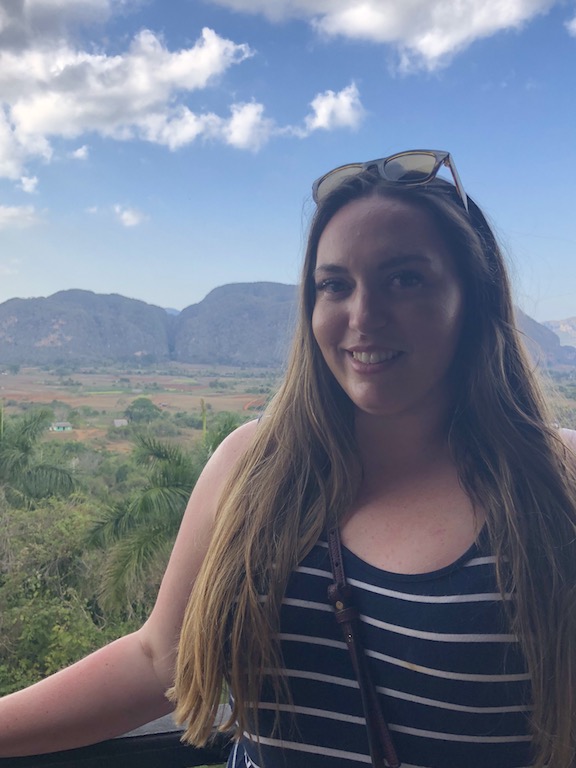 We checked into a nice Casa wandered around the town which is small but charming before finding rooftop restaurant for dinner while the sun was setting.
We had 1-full day in Viñales so decided to do the 'hop-on-hop-off' bus tour which was priced at 5 CUC per person and visited many of the main sites in Viñales.  However, we were approached by a local taxi driver while waiting for the bus who offered to drive the same route, we managed to negotiate his fare to 15 CUC which we think was a good deal as the bus only came every 90min at each stop so it meant we were able to visit the 4 main attractions we wanted to see in probably half the amount of time the bus would have taken.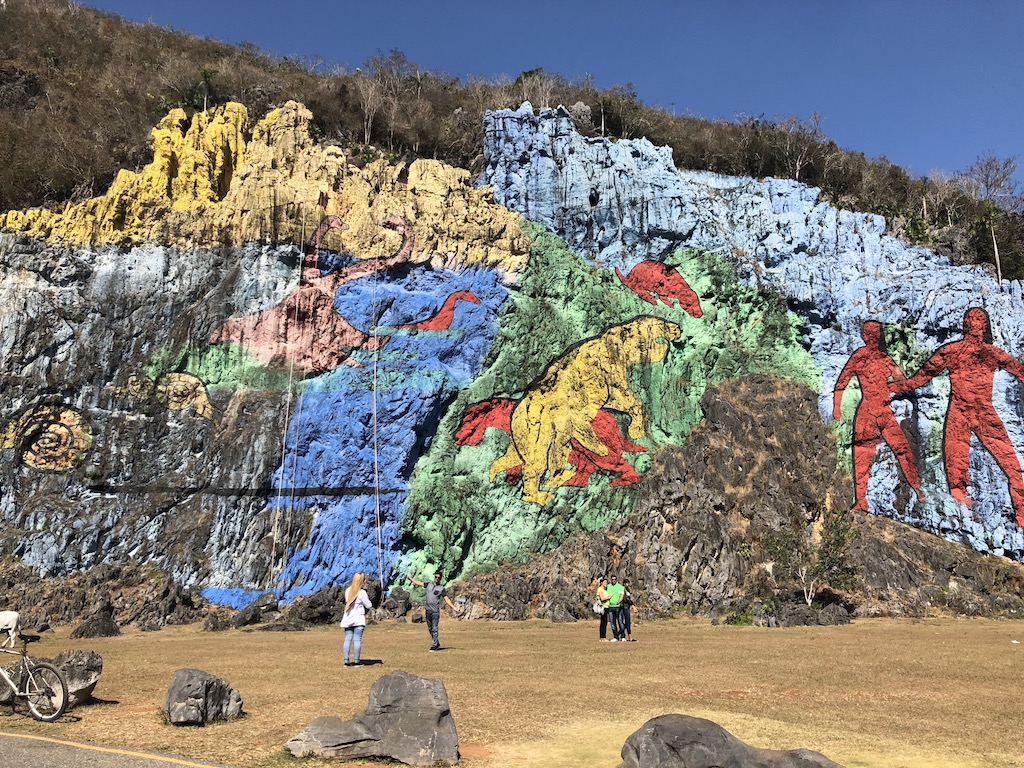 Our first little stop was the Viñales Mural de la Prehistoria (a huge mural painted on the side of a cliff). Spanning from early mollusks and other ancient sea-organisms, the rock face mural moves through the age of the dinosaurs, and ends with three giant red human figures.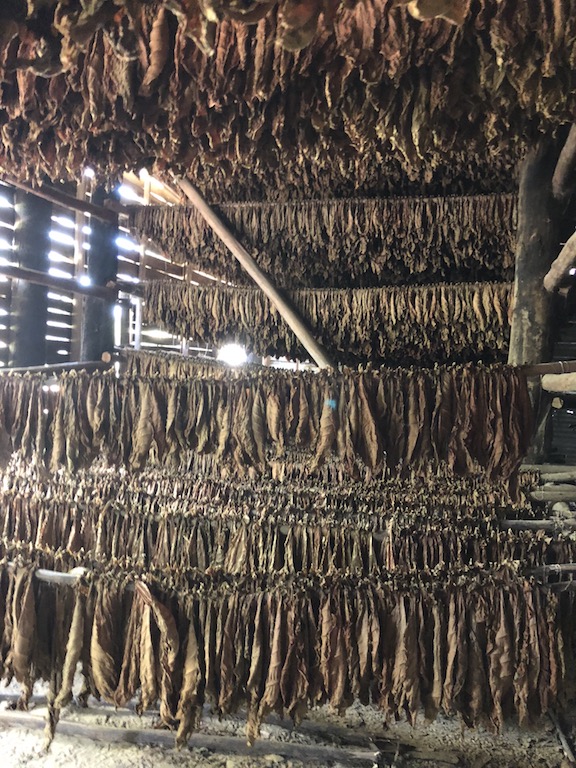 Our next stop was at another tobacco farm, which was interesting to see although it felt more touristy than the farm we visited the day before.  The owner had a well-rehearsed sales pitch and it didn't feel very authentic.
Set just a few miles outside of Viñales, the Indian Cave is a popular attraction in this area and was our third stop on our mini-tour. Indian Cave is named for the Indian remains that were found within this cave. The Guanajatabey Amerindians, an indigenous group native to the region, once used the cave for shelter. There a no longer any skeletons or indigenous artifacts, but we did see impressive rock formations and a spooky underground river which we took a short boat-trip along.
Our final stop was at the Casa de Caridad Botanical Gardens located at the northeastern end of town, run by a mother and daughter. We were slightly disappointed with this stop as it felt like someones back garden that was overgrown but review suggested that the gardens feature a mix of ornamental and medicinal plants and flowers, as well as orchids, bromeliads, palms, and fruit trees.
See a round up of our few days here in the video below.
We celebrated Ross' birthday here in Viñales by going out to dinner and then watching some live musician in the streets of Viñales – I absolutely loved this place, totally different from Havana but equally as intriguing.