Scars of the Khmer Rouge: S21 & The Killing Fields
To understand present-day Cambodia you really have to understand its recent dark history.
WARNING: This blog contains sensitive subject matter that WILL BE upsetting.  It is difficult to understand how we as human beings can do this to each other and what scares me the most is that we don't seem to learn from these horrors.  Genocide's sadly repeat throughout history which is why I think everyone should visit these locations, face this disgusting behaviour and do whatever we can to move our world towards inclusion, equality and peace.
I visited the Nazi concentration camps, Dachau in 2006 on my own, and Auschwitz-Birkenau in 2008, with my sister, and like those, S21 & The Killing Fields create sobering experiences that marks your soul: you're never quite the same person after you visit them.
The Nazi concentration camps deepened my understanding of a disturbing historical event that I already understood on a surface level from my history lessons at school, but learning about the Khmer Rouge in Cambodia was a punch in the gut that roughly alerted me to just how little I knew about another genocide, closer in time to ourselves and yet untouched by our schools.
Note: To understand a little more, I recommend watching 'First They Killed My Father', available on Netflix.
A Brief Overview
The Khmer Rouge was one of history's most horrific regimes; over a period of four years in the late 1970s, they killed a quarter of Cambodia's population, under dictator Pol Pot's mission to create an agrarian society. Education and independent thought were outlawed. Citizens were sent to work in harsh labour camps. Strict food rations left many to die of starvation. And anyone viewed as too much of a risk such as teachers, doctors, those knowing a foreign language, or even simply wearing glasses were were taken away, tortured and killed, this is known as "the most anti-intellectual movement of all time".
There are more than 300 killing fields scattered throughout Cambodia, but it's the Choeung Ek Killing Fields outside Phnom Penh that are the most infamous, where today busloads of tourists come to see the mass graves and pagoda of skulls. It's the most grotesque form of tourism I can imagine.
S-21 Prison
When we arrived at S21, it was beautiful: the sun was shining, the flowering trees in the courtyard (leftover from when the building was a school prior to 1975) were blooming, and there was a breeze.
We collected our audio guides, sat down on a bench, and started listening.
It started bad. Then it got worse.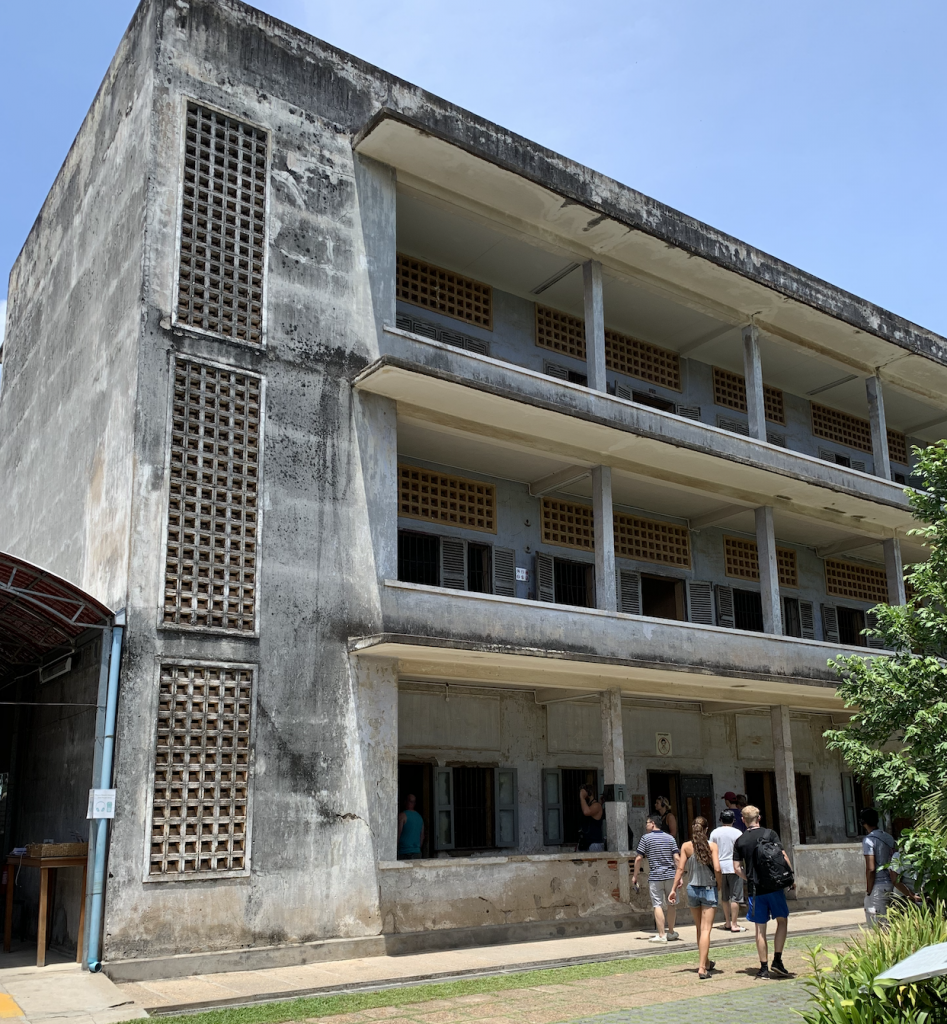 The tour led us through the classrooms-turned-torture chambers, complete with photos of the decimated bodies that the S21 operatives killed quickly and left behind when they knew that Vietnamese soldiers were on their way to take the city in 1979.
Tuol Svay Pray High School sits on a dusty road on the outskirts of Phnom Penh, Cambodia. In 1976, the Khmer Rouge renamed the high school S-21 and turned it into a torture, interrogation and execution center. Of the 14,000 people known to have entered, only seven survived. Not only did the Khmer Rouge carefully transcribe the prisoners' interrogations; they also carefully photographed the vast majority of the inmates and created an astonishing photographic archive. Each of the almost 6,000 S-21 portraits that have been recovered tells a story shock, resignation, confusion, defiance and horror. Although the most gruesome images to come out of Cambodia were those of the mass graves, the most haunting were the portraits taken by the Khmer Rouge at S-21.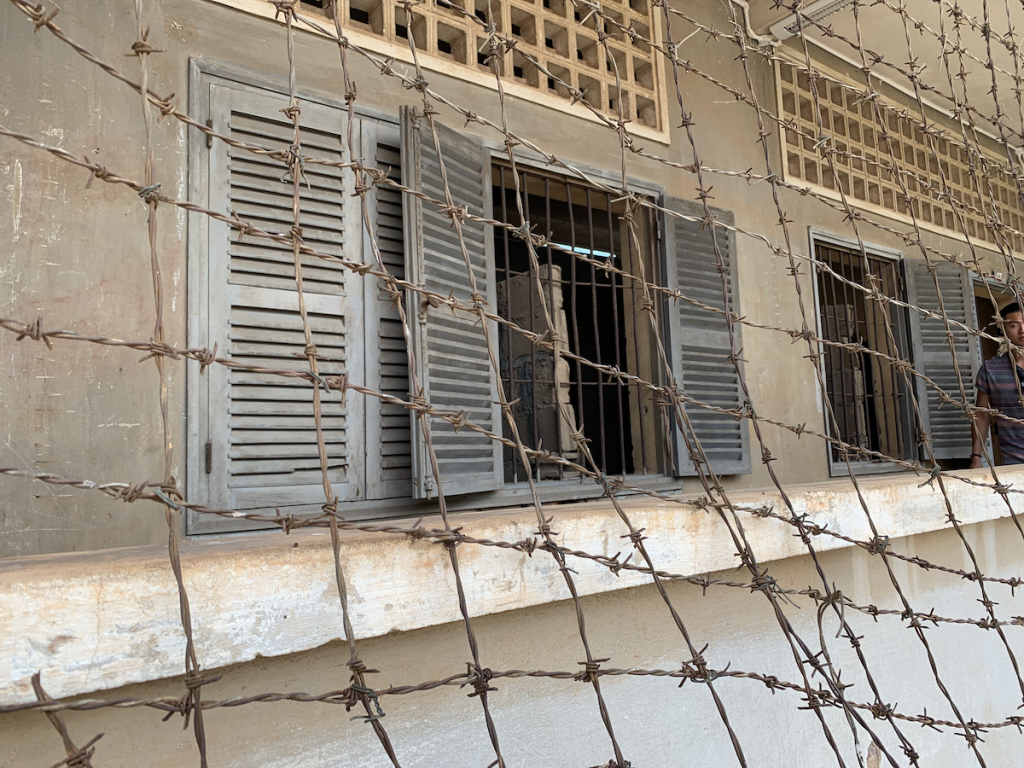 Today, S-21 Prison is known as the Tuol Sleng Museum of Genocide. Inside the gates, it looks like any high school; five buildings face a grass courtyard with pull-up bars, green lawns and lawn-bowling pitches. The ground-floor classrooms in one building have been left to appear as they were in 1977. The spartan interrogation rooms are furnished with only a school desk-and-chair set that faces a steel bed frame with shackles at each end. On the far wall are the grisly photographs of bloated, decomposing bodies chained to bed frames with pools of wet blood underneath. These were the sights that greeted the two Vietnamese photojournalists who first discovered S-21 in January of 1979.
In another building the walls are papered with thousands of S-21 portraits. At first glance, the photograph of a shirtless young man appears typical of the prison photos. Closer inspection reveals that the number tag on his chest has been safety pinned to his pectoral muscle. With a bruised face and a pad-locked chain around his neck, a boy stands with his arms at his sides and looks straight into the camera. A mother with her baby in her arms stares into the camera with a look of indignant resignation. The photographs and confessions were collected in order to prove to the Khmer Rouge leaders that their orders had been carried out.
This is a difficult place to visit.  I found myself frequently escaping into the courtyard to sit outside and reflect.
REMINDER: This blog contains sensitive subject matter that WILL BE upsetting.
Choeung Ek – The Killing Fields
In the same format as at S21, an audio guide led us through the area, complete with haunting firsthand accounts of the Khmer Rouge and descriptions of the torture and death imposed on the fields.
We stop at the first tree on our path, a gnarled creature with sawed limbs and wild roots. The audio guide tells us it's where Khmer Rouge soldiers would hang speakers blasting music, to drown out victims' cries so neighbouring villagers wouldn't hear.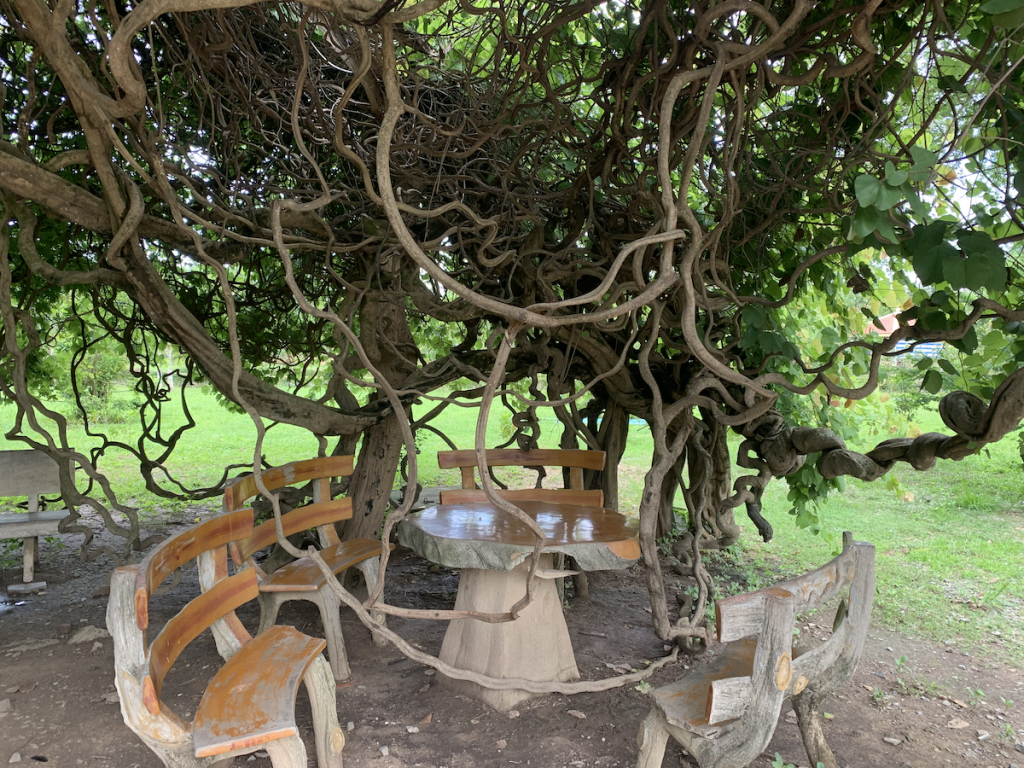 Bullets were valuable, so most of the victims were bludgeoned to death: including the babies, many of whom met their fate by being swung against a large oak tree, now called "The Killing Tree".
You can still see blood on the tree. I could hardly look at it.
The majority of the victims were trucked out to Choeung Ek, at about 8 or 9 o'clock PM, to be killed. The guards took the prisoners from their cells to the main gate where a large truck waited and told them that they were being transferred to another place. This lie was created to prevent the prisoners from crying, refusing to go or from escaping.  In order to be well prepared for execution, a messenger from the defense unit was sent to the Choeung Ek Killing Field in advance to inform a permanent team about the number of the prisoners to be killed that day. Usually, the messenger went to the Killing Field by motorcycle in the mornings. To ensure that a top secret was kept and also that the execution was carried out properly, Duch, Peng, and Huy were requested to attend by Son Sen, the Minister in charge of defense and security. Often times, Duch sat smoking on a mat near the pit to supervise the executions and to insure their murderous plans.
The number of prisoners executed at Choeung Ek on a daily basis varied from a few dozen to over three hundred. The latter figure was recorded in May, 1978 at the height of the pursuits in the Eastern Zone. On a monthly basis two or three trucks would go from S-21 to Choeung Ek. Each truck held three or four guards and twenty to thirty frightened, silent prisoners. When the trucks arrived at the site, two guards seated with prisoners jumped from the canvas and took prisoners down, shoved them into a small building.  The building was constructed from wood with a galvanised steel roof and its walls were built with two layers of flat wood to darken the room and also to prevent prisoners seeing each other. Then, with the electricity light supplied by a generator , Peng or Huy the heads of capturers subunit, verified prisoners' names against a "must-smash" list prepared by the head of documentation unit, Suos Thy.  This list ensured that no one prisoner was missed.  Prisoners were led in small groups to ditches and pits that were dug in advance by another team stationed permanently at the site.
They were told to kneel down and then they were clubbed on the neck with tools such as cart axle, hoe, stick, wooden club or whatever else served as a weapon of death. They were sometimes stabbed with knives or swords to save using bullets, which were deemed to be too expensive. Duch said: "We had instructions from the party on how to kill them, but we didn't use bullets and usually, we slit their throats. We killed them like chickens" ( Dunlop 2005:273)
Him Huy, who took the prisoners to be killed at Choeung Ek recalled,"They were ordered to kneel down at the edge of the hole. Their hands were tied behind them. They were beaten on the neck with an iron ox-cart axle, sometimes with one blow, sometimes with two… " (David Chandler 1999:140).
Soon after prisoners were executed, the head of inspectors made sure that no one was alive. According to a witness who came to Cheung Ek just 2 days after liberation day, January 7th, 1979, said that at the site there was a small hut with chemical substances. He guessed that executioners scattered these substances over the dead bodies of the victims after execution. This action might have served two purposes: first, to eliminate the stench from the dead bodies which could potentially raise suspicion among people working near the Killing Fields and secondly, the chemicals would have killed off victims who were buried alive.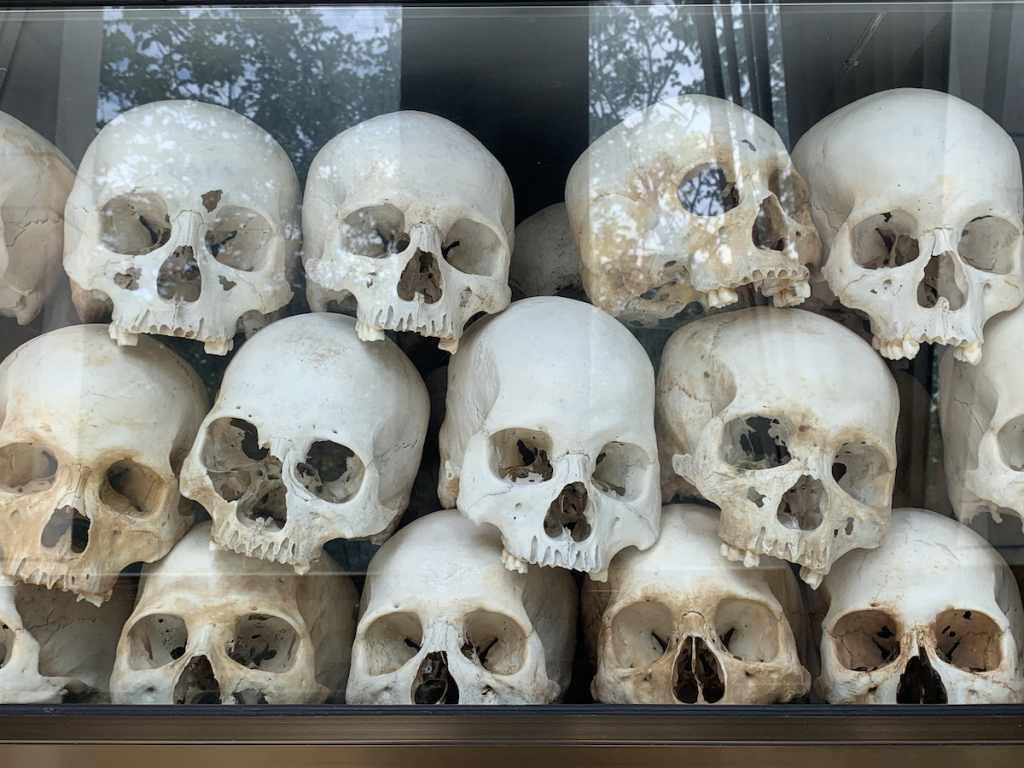 What Can We Do
You may be wondering how you can help the country recover from its tragic past and develop its much-needed tourism industry. In addition to respecting the country's culture, religion and traditions, it's all about buying local. Try to eat local, shop local and do anything they can to support the incomes of Cambodian families.
There are admirable projects throughout the country that help with this, and of these, three stand out. In Siem Reap you can visit HAVEN – a restaurant run by the Dragonfly, offering delicious Cambodian food and, more importantly, support and vocational training for locals. In Siem Reap you can also enjoy Phare – an incredibly lively, nightly circus that helps disadvantaged Cambodian youths.  And lastly, book to do a half-day workshop with Free to Shine, where you walk a mile in Serey's Shoes – an interactive experience where you can learn about the decisions women in villages need to make everyday to support their families.