Primary Schools in Nakuru
Today we drove to Nakuru, Mum, Bec's and I had been here just over a week ago to do a 1-day Safari at the Lake Nakuru National Park, but this has been a very different visit. We are visiting local schools, New Canaan village for displaced people and the amazing projects that So They Can run in the area.
We set out early and arrived at our first school Mlimani Primary School by 12pm. This school has about 700 students between the ages of 5 and 15 – yes – I thought 15 was old for a primary school but in Kenya it's not unusual for girls in particular, to start their schooling late due to their responsibilities at home.
Global poverty could be halved if all adults completed secondary school education, with Sub-Saharan Africa suffering from the highest out of school rates in the world.

Unicef
B1G1 has supported this school in many ways, but one of the most heart-warming projects is the blind unit at the school, where the kids each have access to braille typewriters.
The principle of this school is quite a character and the kids were so excited to have visitors. We tried not to be a distraction but there was no chance of that, as the moment we walked into the grounds were were swarmed by affectionate children who wanted to hug us, hold our hands, and touch our hair. There were fascinated, with my straight – and in their words, 'silky' hair – and couldn't believe it was growing out of my scalp. (Although I think with all the pulling and hands running through my hair, I lost a decent amount of hair over the next few hours). It was an amazing visit, their excitement and energy was so uplifting.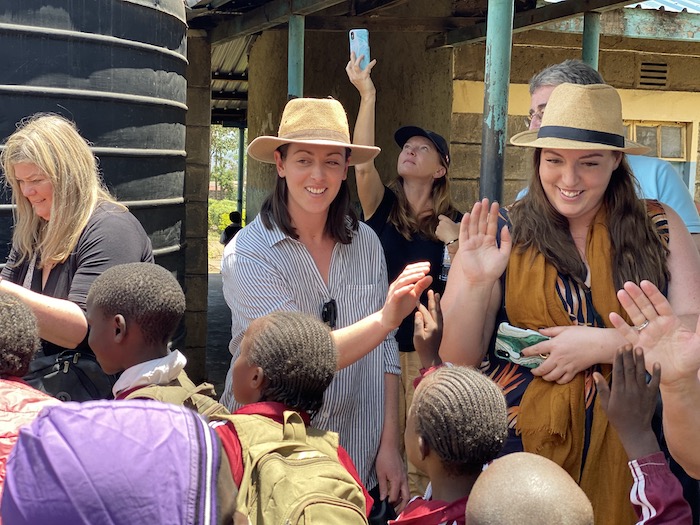 Something I learned during the visit was the number of girls who miss school due to their monthly menstural cycle. With no sanitary products they will miss a week of school each month which makes it very difficult for them to maintain the grades they need to progress to the next grade. One of the projects available on the B1G1 platform allows us to provide sanitary products to these girls to help keep them in school.
Obviously I'm travelling with my Mum and my Sister (as well as 24 business owners) and one thing the kids loved, was learning that we were a family. My Mum does look young for her age, but they were blown away to hear she was in her 60's as she was bouncing around, high-fiving, hugging and laughing with all the kids – they couldn't believe it. Life expectancy is around 60 years in Kenya so a woman her age in their community is most likely frail and without the energy that my Mum is lucky enough to have.
Due to lower life expectancies and the ravages of HIV and AIDS, only 2.7% of the population is aged over 65 years and 42.2% are aged under 14 years. The median age for a Kenyan is just 18 years and the average life expectancy is 59 years.

Kenya Aid
A group of kids asked me if my Dad was here too. I explained that my Dad had passed away many years ago while I was still at school. And one little girl responded and said her Dad has died too – and another little voice, said 'mine has too' and then a third said her Mum had died. It was both an awfully sad moment but also one the felt so beautiful – we all connected over sharing this with each other. I could see that they realised that we are not that different. We may come front different countries but we all human. I lightened the mood by explaining I also had a brother who was back at home in NZ, they asked why he didn't come to visit? I explained that he had 3 young children so need to stay home to help take care of them. We showed them photos of my nephew and twin nieces – they loved to look at the photos of babies and found them very cute.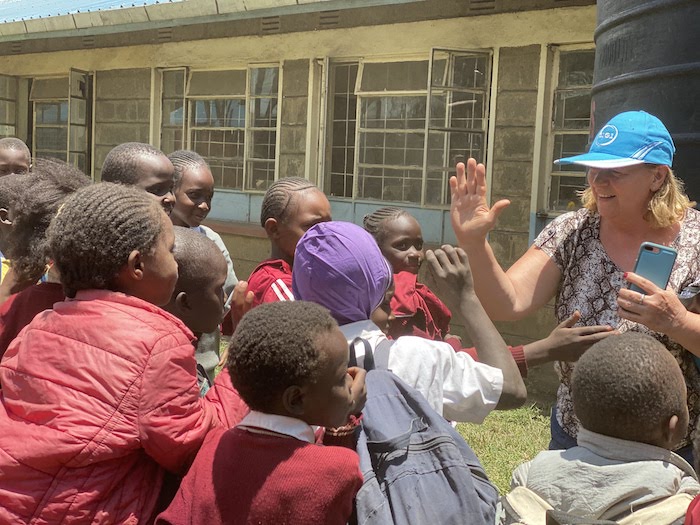 The second stop was at Kibowen Komen Primary School, also in Nakuru, There are approximately 1,450 children at this school, with a pupil/teacher ratio of 75:1, which although on the high side for Kenya was thought to be reasonable and is certainly better than many schools.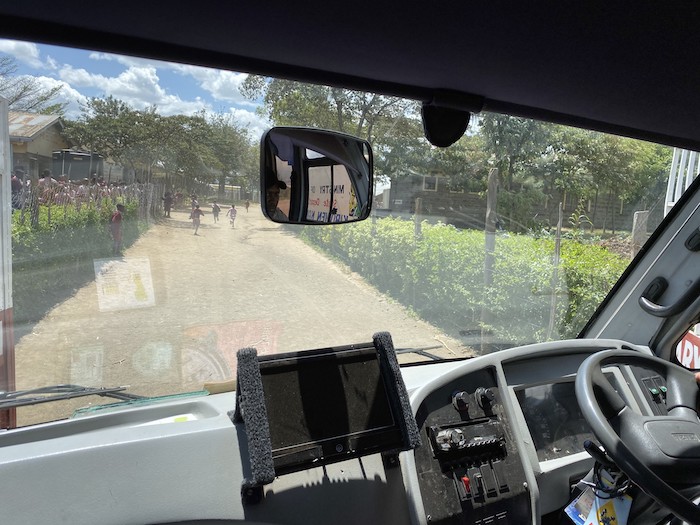 Last port of call for the day was the amazing Aberdare Ranges Primary School, which is run buy the excellent So They Can organization, once again with the support of B1G1 as well as other global sponsors.
Only a few short years ago, this school did not exist, and there were no other local options for these children as they came from a refugee camp. The refugees were IDPs (Internally Displaced Persons) who were driven from their homes by violence surrounding the heavily disputed general election in 2012.
Once the elections were over and the partisan violence had subsided, the Government offered each of the refugees around US$100 to relocate back to their homelands, but most didn't want to return to where their houses had been destroyed and property stolen, so they instead polled their money to buy land and establish a village community on the site of the refugee camp.
Through a combination of the refugees' determination and hard work, and support from B1G1 and similar organizations, the tents were replaced by permanent constructions and a strong community has been forged.
Aberdare Ranges Primary School was the first project founded by So They Can in 2010 in partnership with the Kenyan government giving a community in crisis hope through education.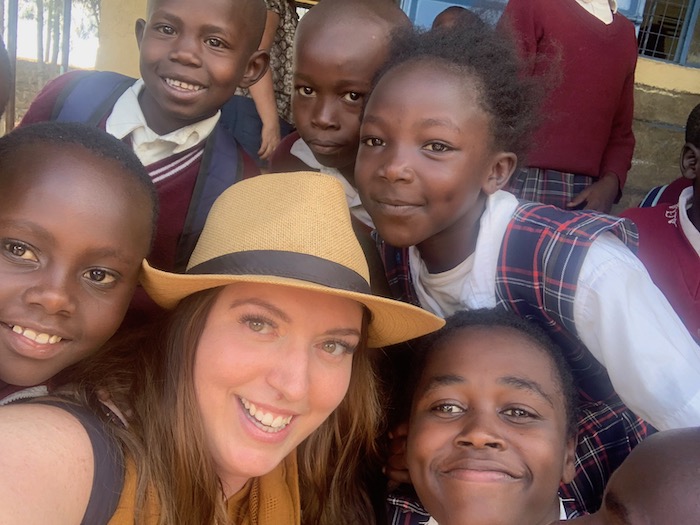 Our hosts at Aberdare did their best not to disturb the classes that were in progress while they showed us around, as all of the Grade 8 students were sitting exams that would determine whether they got into a good school (the National schools, which offer boarding and the highest standard of education) or a less promising alternative. Tragically for those who don't make the cut, the future prospects for work are quite bleak given that the unemployment rate is massively higher than official figures, by an order of magnitude.
100% of Aberdare Ranges Primary School's first graduating class of 2017 (120 students) were able to proceed to secondary school to continue their education. The school was most recently placed in the three top performing schools in the Sub-County.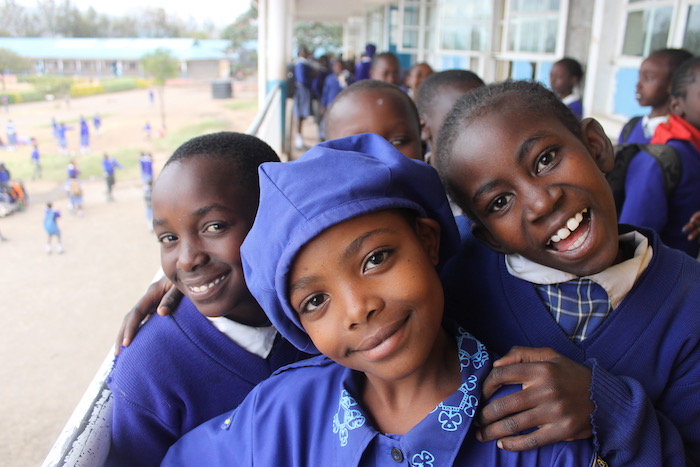 The school is at full capacity educating 1080 children annually from Early Childhood Development classes (pre-school) through to Standard 8 (age 14). It is a model educational institution in the region, providing quality facilities and education to benefit the educational support offered in the additional 36 collaborative schools So They Can support in East Africa.
Aimed also at balancing the gender inequality in these areas, 70% of the scholarships are given to girls.
Students have the opportunity to attend Secondary School across Kenya. So They Can have partnered with nearby government school, Nairobi Road Secondary School, that the majority of Aberdare Ranges Primary School students will attend. Other high performing students will be selected for other National and County schools.
On completing Aberdare Ranges Primary School students enter secondary school for the next chapter of their education journey. Our secondary school scholarship program is enabling extremely needy children from remote rural communities the opportunity to further their education.
Vocational training options are also available for continued learning opportunities.