Nanban – Japanese Soul Food in Brixton
In an attempt for our up-coming holiday to Japan, we decided to check out Nanban. This ramen-bar-cum-izakaya (a sort of Japanese pub) is the brainchild of Tim Anderson, whose "Tri-City Sliders" secured him the MasterChef crown in 2011.  Nanban is a southern Japanese restaurant on the border of Brixton Market.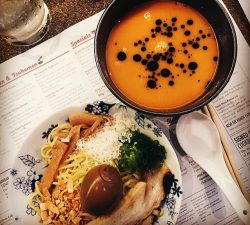 We both ordered Ramen! I got the Leopard' Tsukemen – Very rich chilli-sesame pork broth dipping ramen
with burnt garlic oil, pork belly, Scotch bonnet-pickled bamboo shoots, garlic chips, Parmesan, and tea-pickled egg which was good but Ross' Miyazaki Chicken Ramen was much tastier,  it consisted of medium noodles in chicken-soy broth with chicken thigh, tea-pickled egg, nira, and yuzu-koshö schmaltz.
I got some serious food envy for the 'Angry Birds' (500g), crispy deep-fried chicken wings with Scotch bonnet ponzu butter sauce and seafood sawdust that our neighbours ordered.  These looked great, and the smell was mouth-watering.
Address: 
426 Coldharbour Lane
, 
London SW9 8LF, 
England
Website: http://www.nanban.co.uk/