Galta Ji (Monkey Temple)
A pre-historic Hindu pilgrimage site, the Galtaji Temple, is located only 10km away from Jaipur.
One of the jewels of Jaipur, the temple complex encompasses natural fresh water springs and 7 holy 'kunds' or water tanks. Among these kunds, the 'Galta Kund', is the holiest one and is believed to never get dry. A spring of pure water flows from the 'Gaumukh', a rock shaped like a cow's head, into the tanks. A spectacular structure, this magnificent temple is built in pink sandstone, amidst low hills, and is structured to look more like a palace or 'haveli' than a traditional temple.
The Galta Monkey Temple has a back-drop of gorgeous landscape featuring lush green vegetation, and offers a fascinating view of the city of Jaipur. This temple is famous for the many tribes of monkeys that dwell in this area. The religious hymns and chants, combined with the natural setting, provide a 'real indian' feel to the place which is exactly what we were looking for on our trip through Rajasthan.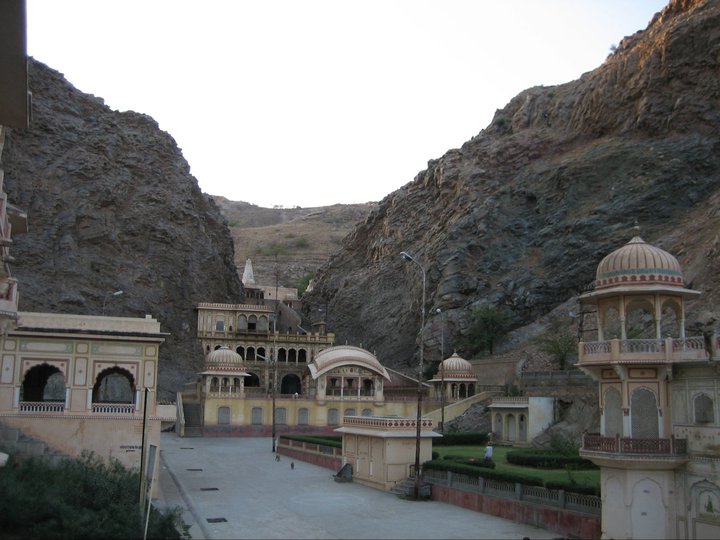 It was a shame to see the temple was poorly maintained. It was quite dirty and there was a lot of rubbish around.  I was excited to see so many monkey's but did feel a bit nervous around them as they crowd around in groups and fearlessly try to snatch things from out of your hands.  We saw 1 person have their camera snatched and another who had their camera case snatched by a monkey – there was no chance of getting them back as the monkeys moved incredibly quickly up the rock-face.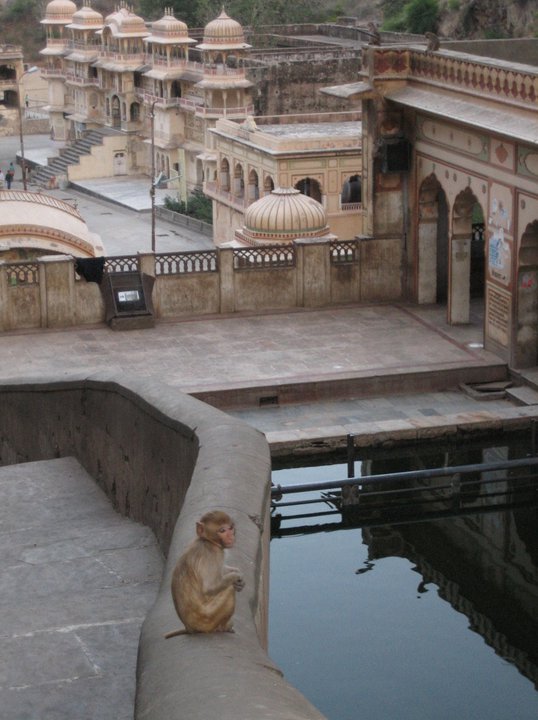 History
Diwan Rao Kriparam, an attendant to Sawai Jai Singh II, in the 18th Century, built the Galtaji Temple.
Legends
It is believed that, Saint Galav spent all his life here and performed his 'tapasya' for 100 years. Pleased with his penance, the Gods appeared before him and blessed his place of worship with abundant water. To honour this great 'rishi', a temple was built here and it was named after him. Taking a dip in the natural springs of Galtaji is considered very auspicious and is said to cleanse a person of his sins.