Arashiyama
Arashiyama is in the far west of Kyoto, tucked along the base of the Arashiyama Mountains (meaning "Storm Mountains").  We visited this area upon arriving in Kyoto from Tokyo on the bullet train as I was really excited to tick off some of the biggest tourist spots immediately.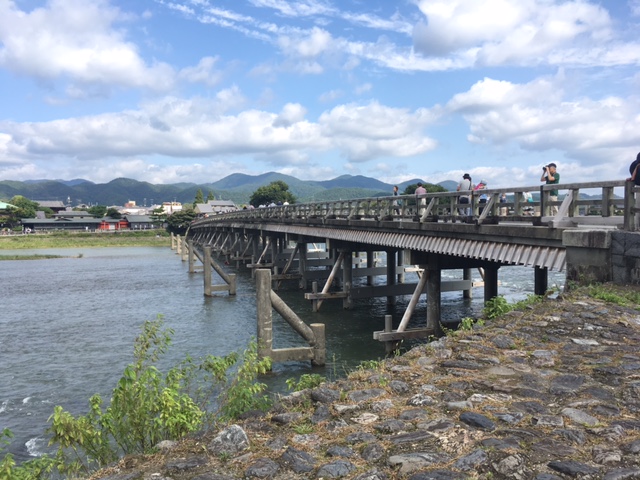 A short walk from the train to Arashiyama's central landmark–the Togetsukyo Bridge, was our first stop before making our way towards Arashiyama Monkey Park Iwatayama.
We entered the park near the south side of Tōgetsu-kyō, through the orange torii (shrine gate) of Ichitani-jinja.  It's a steep climb up the hill to get to the monkeys but is lovely and cool through the forest.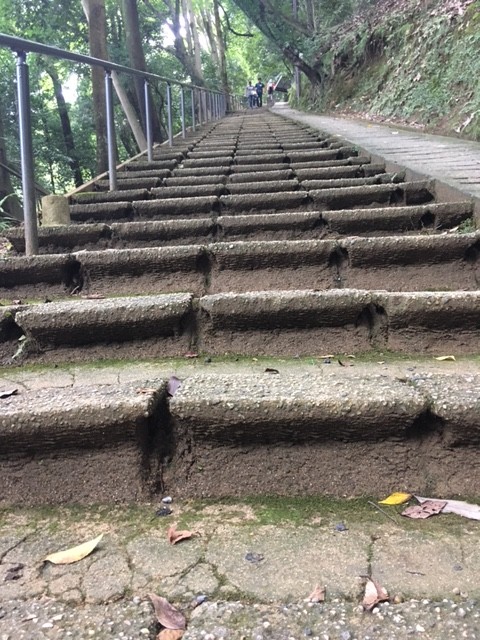 Here we encountered monkey's at a close distance and enjoyed watching the playful creatures frolic about.  The Arashiyama Monkey Park Iwatayama is a monkey park inhabited by approximately 120 monkeys. This monkey park is most famous for its snow monkeys which can be seen with white snow on their red faces.
The views of Kyoto from here were also amazing.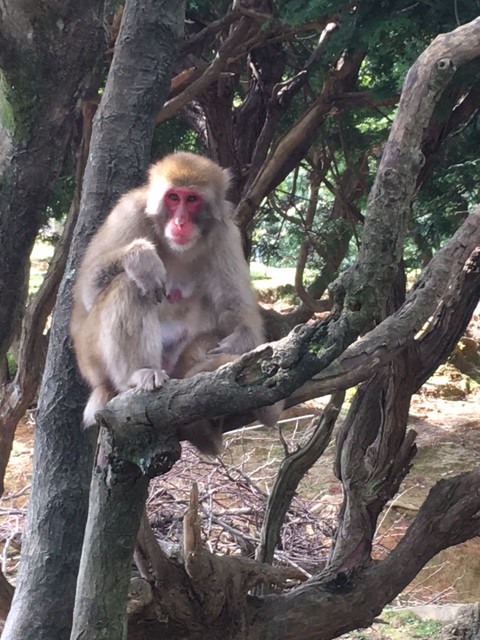 The park has a feeding site where guests can purchase food and feed the monkeys. It is important to remember that although safe to feed these monkeys, these monkeys are wild monkeys so the rules of the park should be followed at all times.
From there it was on to Arashiyama's well-known bamboo grove.  Japan is filled with so many arresting sights. It was difficult to plan this trip but when I saw the posts from other travel bloggers about Arashiyama Bamboo Grove I knew this was a place we must include in our itinerary.
It's one of the most photographed tourist sights of Kyoto, lined with hundreds, probably thousands of towering bamboo stalks, you'll feel like you're in a different world. I've never seen anything quite like it!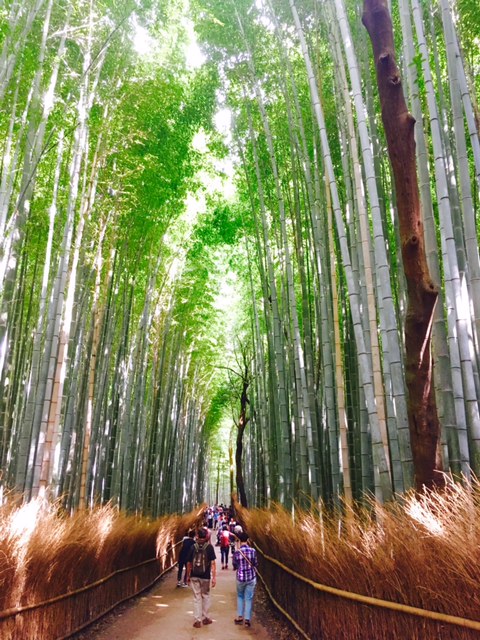 The grove runs from outside the north gate of Tenryū-ji to just below Ōkōchi Sansō villa altought many of the paths were gated off which was slightly disappointing.  I wonder if going with a tour group if you are able to go off the main paths? Photos just can't capture the magic of this place, it really was quite stunning.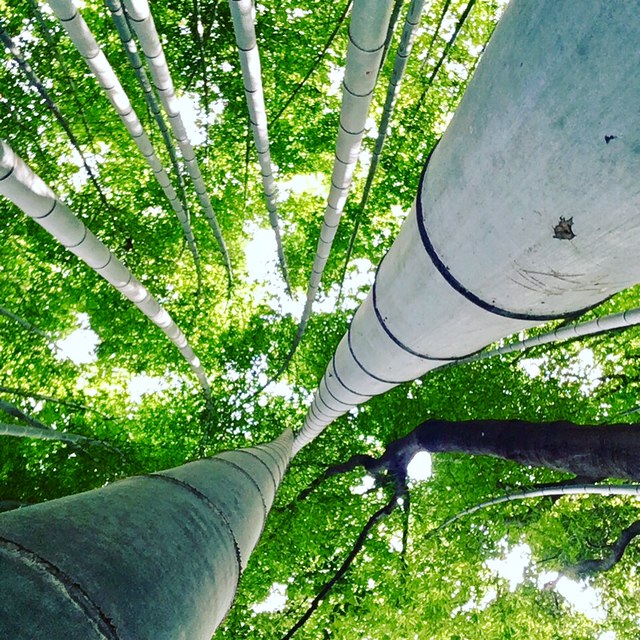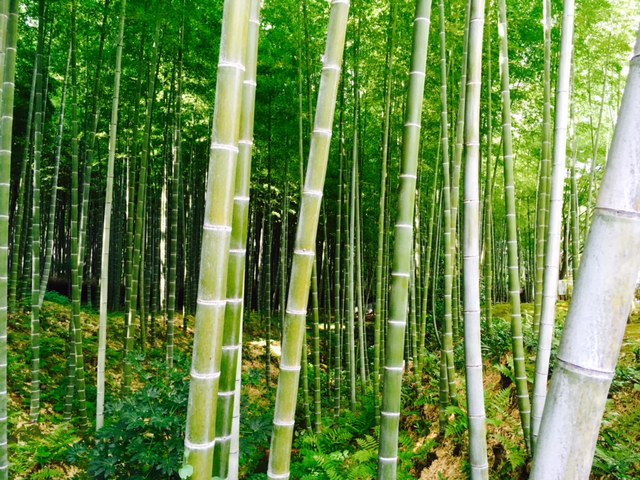 In an attempt to escape the mass influx of tourists to the Bamboo grove we took a 5 min walk on to the Tenryu-ji Temple – one of the head temples of the Rinzai Zen School – established in 1339 by Takauji, the first shogun of the Ashikaga Shogunate. The temple is famous for its landscaped garden which, unlike the temple buildings, has survived in its original form.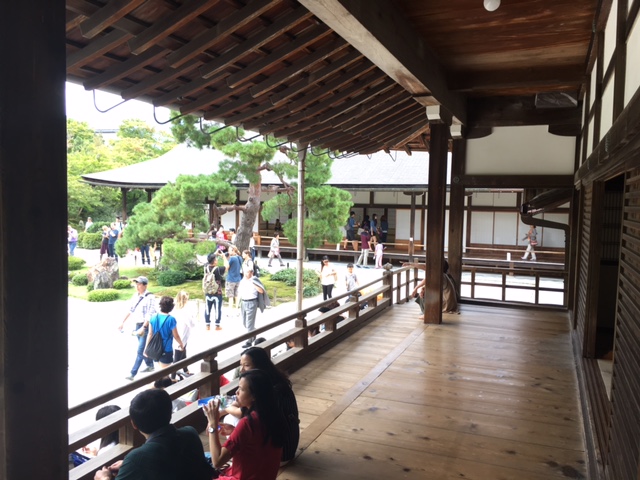 Tenryuji is ranked among Kyoto's five greatest zen temples and is also listed as a UNESCO World Heritage Site. Although there are plenty of temple buildings to be seen around Tenryuji, the main attraction is really its zen garden dating back to the 14th century. It features a large pond surrounded by rocks, pine trees, maple trees and the forested Arashiyama mountains, it really is a beautiful place and we've been daydreaming about how we may incorporate something similar into our future 'dream home'.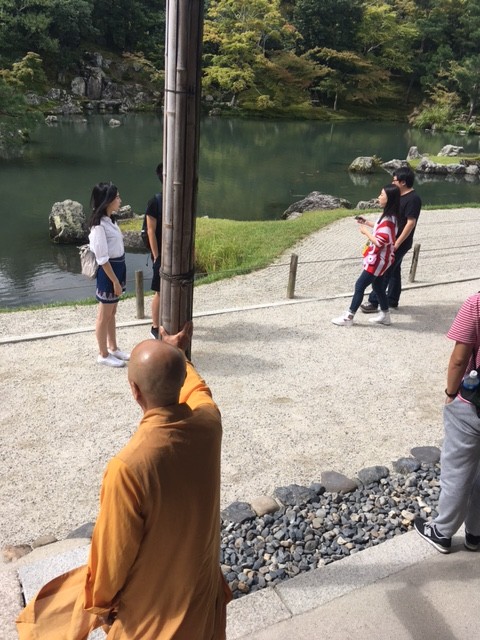 Once again, my photos don't do these locations justice but this first day in Kyoto has been amazing and I am so looking forward to checking into our traditional Ryokan tonight.  It feels so tranquil and authentic here – although we loved Tokyo, Kyoto has a very special feeling to it.
UPDATE: Read about our Stay in a Ryokan here.
Getting to Arashiyama from Kyoto Station
Train: JR Sagano/San-in line to Saga-Arashiyama or Hankyū line to Arashiyama, change at Katsura